On March 5, 2021, we joined our partner Discover to welcome hundreds of professionals, business leaders, and allies to our annual International Women's Day celebration! This year's virtual format brought together attendees from around the world for a morning of workshops, networking, and incredible speakers. Together, we took the pledge to #ChooseToChallenge, our call to envision a better, more equitable future for women by improving ourselves, uplifting others, and joining as leaders for change.
After a morning networking session, 1871 CEO Betsy Ziegler opened the program with some sobering facts that highlighted the problems facing women in the workplace today. The COVID-19 pandemic has created wide-ranging and disrupting effects, as we've seen women professionals disproportionately exiting the workforce and VC investments in female-led businesses dropping significantly in 2020. Betsy laid out the key changes necessary to combat these challenges, including increasing pathways toward leadership and championing policies that foster a more flexible balance between one's personal and professional lives.
Betsy's address set the tone for the day and led us into an insightful fireside chat with Deb Offereins, Executive Vice President, President – Payment Services, Discover Financial Services. They discussed Deb's path as a leader in her company and a devoted mother, how she incorporated both areas of her life, and her advice for women who aspire to lead lines of business. Here were some of the top take-aways from the conversation:
We are always in control of our life stories. Deb noted that we are a collection of all our experiences, emphasizing that when we look back on past wins, setbacks, and challenges, we should "always have reflections, not regrets."
When trying to make your voice heard in a room full of men, watch the people who do it really well. Because presenting your authentic self in the workplace isn't a skill people are born with, you have to listen, learn, and establish a point of view.
The pandemic needs to teach us how to be more inclusive of other people's priorities. The move to virtual showed us that it's okay for our personal life to enter our work life at times. Some days our kids will step into the camera frame or we'll need an hour to go to the doctor, but moving forward that flexibility will be key to keeping women in the field.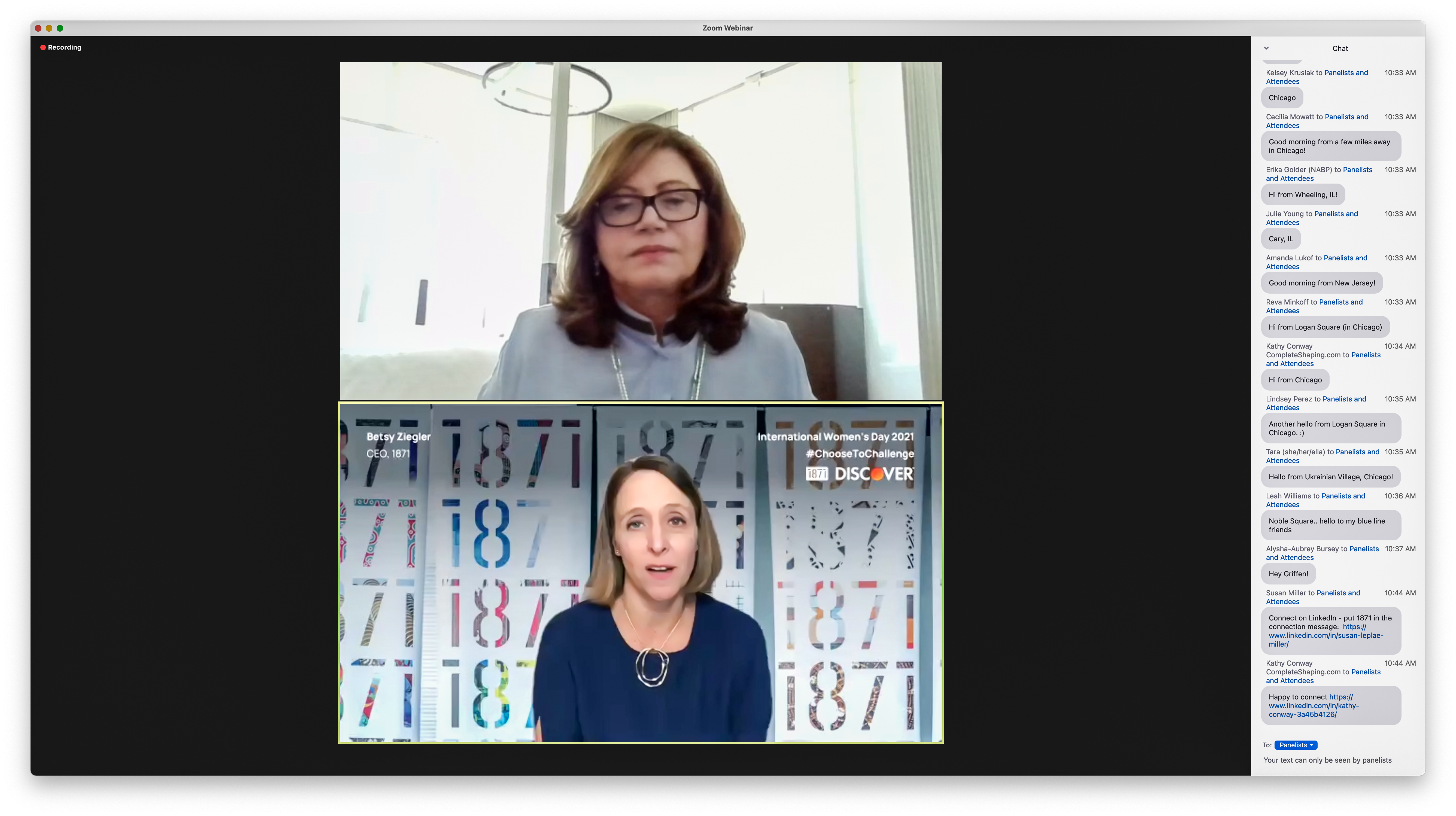 From here, we jumped into the workshop sessions! This year's program included both a professional development and entrepreneurship track, giving attendees an option to tailor their IWD experience.
In the professional development track, President of Elevate Performance Solutions Inc. Kirsten Ramos talked about "Finding Your Confident Voice." Kirsten discussed the essential aspects of character, substance, and style when creating an executive presence, and reinforced the idea that courageous leaders have double vision, as "they see the world as it is and as it could be." Our second workshop featured Founder & CEO of Ethos Alida Miranda-Wolff exploring tips for "Leading Through Influence." Attendees learned that when using influence, we're showing our listener the value by telling a story that centers their worth. As Alida explained, when using the power of suggestion, "we have to be the guide and our listener needs to be the hero."
In the first workshop of our entrepreneurship track, Discover leaders Shaida Lynch, Alisa Ellis, and Hannah Calhoon led a conversation about "Breaking Barriers: Innovation Improving Financial Inclusion and Health," where they discussed how financial institutions can work to build trust through mobile innovation. Then, Head of Diversity and Inclusion at OCC Yemi Akisanya led an important workshop that asked the question, "Can DEI be a Competitive Advantage in Business?" Yemi taught attendees that they must first investigate their motivations for investing in DEI, and reiterated that a company's success "depends on each of us being able to bring our vibrant thought, diversity, and selves to our workplace."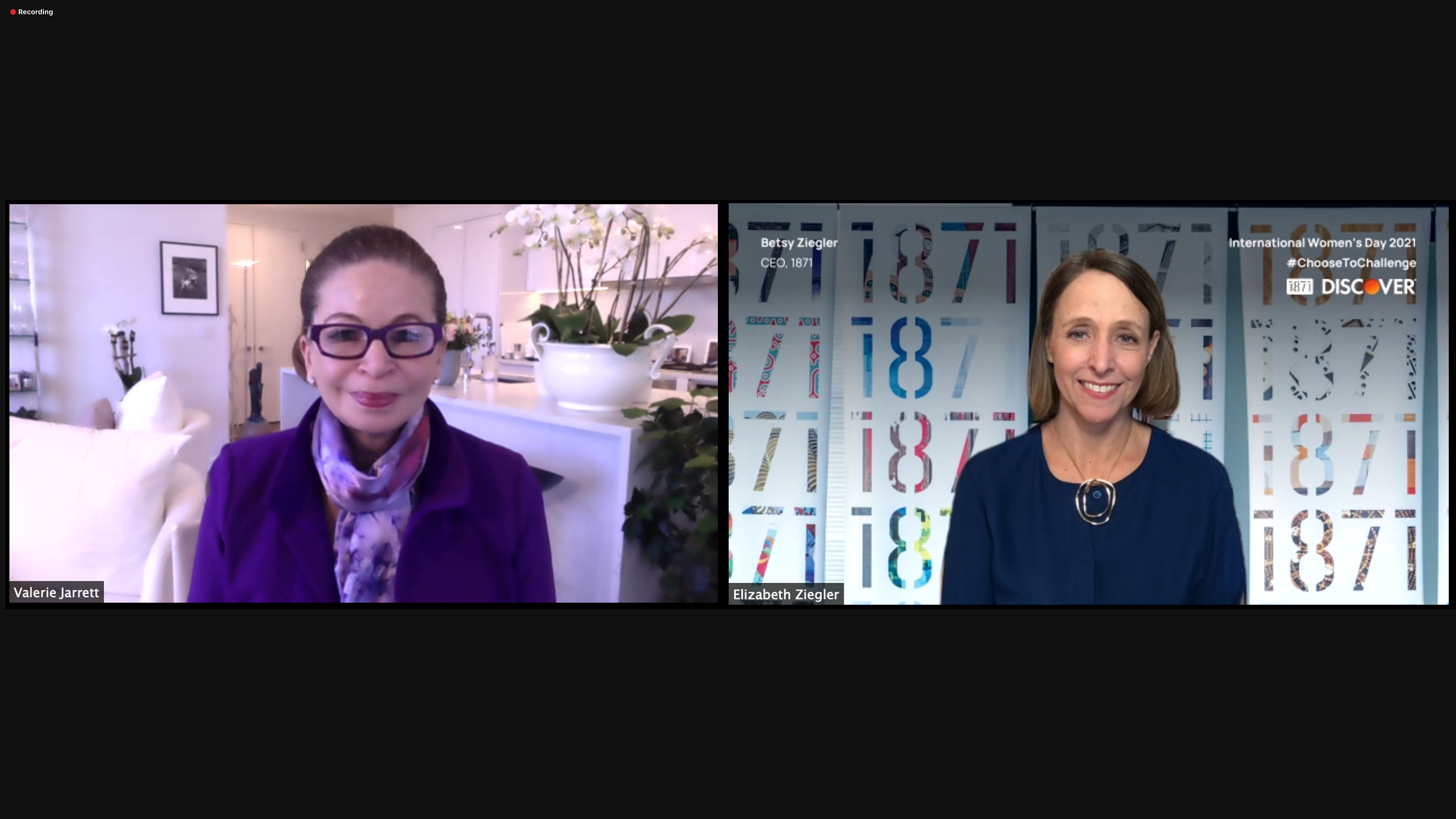 Our International Women's Day celebration ended with an incredible keynote address from Valerie Jarrett, President of the Barack Obama Foundation & Senior Distinguished Fellow at The University of Chicago Law School. Moderated by Betsy, the discussion touched a number of important and fascinating topics—way too many to list here! You can watch the full keynote here, but here were some of our highlights:
Embrace the zig and zag of your career. Everyone's story is unique, and it's important that we never view ourselves as a "finished product." Instead, know that "there are no right moves" as Valerie said. "You can always swerve again."
Workplace culture requires constant reinforcement. Setting the right tone starts at the top, and leaders must continually affirm the culture they wish to see. Companies should have employee benefits such as paid leave and sick days and remove the stigma of using them. Valerie noted, "if you have a paid leave policy but no one takes it, do you really have paid leave?"
Don't put a brick on your own head. If you're in the position to do so, use your voice to advocate for change. If you need to take care of your personal life, don't hold yourself back; doing so is "a disservice to yourself, your boss, and your family."
Finally, Valerie ended the day with a story that encapsulated the spirit of the International Women's Day 2021 theme of #ChooseToChallenge. She told attendees about a woman she met in San Francisco who spent her weekends going to the locations where naturalization ceremonies were being held to register new citizens to vote, using her ironing board as a table. When Valerie asked why she used that household item, the woman answered, "I don't have a folding table, but I have an ironing board."
The moral? Things always seem impossible until we make them inevitable.
Subscribe to our ICYMI newsletter.
Share this post: