Gain an understanding of the podcast landscape, knowledge on how to launch and what to consider before hitting record.
About this event
Have you ever thought to yourself "I could (and should!) do this." while listening to your guilty-pleasure or industry-focused podcast, but found yourself unsure of where to start? The StudioPod team is here to help unlock the secrets to bringing a great podcast to life.
StudioPod Media is a full service podcast media & production company. With a mission to empower through audio, they help organizations create thought-leading content. In partnership with 1871, the founders of StudioPod will lead early stage companies through the Podcast Fundamentals. What you will takeaway from this engaging, two-hour event:
An understanding of the podcast landscape, knowledge on how to launch and what to consider before hitting record
Thought starters on effective podcast structures to create engaging, thought-leading audio content
Tactical recommendations for amplifying your show, along with equipment and software needed
*Please note that this is a virtual presentation. The link will be provided to registrants via email in advance of the event date.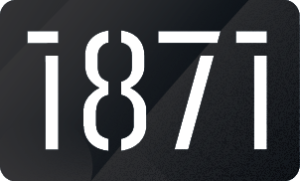 Registration for this event is available on an external site. By clicking on the Register button, you will be leaving this site and registering on eventbrite.com.
Cost:
1871 Member: free (contact Kaylin Berg, [email protected] for promo code)
Nonmember: $50
Refunds:
All registrations to 1871 events are final and non-refundable. Refunds will only be offered if the event is cancelled. Registrations are transferable to another qualified guest. Please contact Kaylin Berg, [email protected] to request such a transfer.
Recording:
By registering for this program, you agree to be recorded for future reference/distribution.
Julian A. Lewis II, Co-founder, StudioPod
Working for 15 years in digital media and teaching a media course at the University of San Francisco, Julian thought launching a podcast would be easy. Overwhelmed, he outsourced production and editing to StudioPod, freeing him to focus on the content and promotion (which he was best at). He joined forces with TJ in 2019, as he sees a podcast as an opportunity to amplify the voices of individuals and brands. Julian was most recently at Pinterest as a Sales Manager, where he was first introduced to 1871; he's spoken at two of our events since, including the launch of the 619 ERG.
TJ Bonaventura, Co-founder, StudioPod
TJ began his podcasting journey in 2016 when he and a friend, who lived remote, tried to launch a podcast; they couldn't believe how much went into creating a show. For the last five years, he's jumped headfirst into podcasting, making it his passion and livelihood to lower the barrier of entry. Since opening StudioPod in 2018 he's helped a number of companies, writers, professional athletes, doctors, and many others produce podcasts. He previously worked in SaaS sales, most recently at Salesforce as a Sales Engineer.