We are thrilled to unveil the 30 finalists of this year's 16th Annual Momentum Awards! 
These finalists were chosen from our impressive pools of nominees. After much deliberation, our esteemed judges have selected the top 5 founders, innovators, and tech companies for each award category that are disrupting their industries and paving the way for excellence in tech. 
Voting for 6 of our public awards closes on 08.11.2023. Learn more about each finalist below, and let us know who you think deserves to win the trophy and recognition by casting your votes!
The six award categories open to public voting include:

Rising Star

Momentum

CityLIGHTS

Outstanding Tech CEO

Industry Disrupter

Social Impact 
The 16th Annual Momentum Awards will be held on September 21, 2023, both in-person and virtually for an entire night of celebration and innovation. Stay tuned for ticket details so you can join us on this momentous occasion! 
And now without further ado, here are your 2023 Momentum Awards finalists!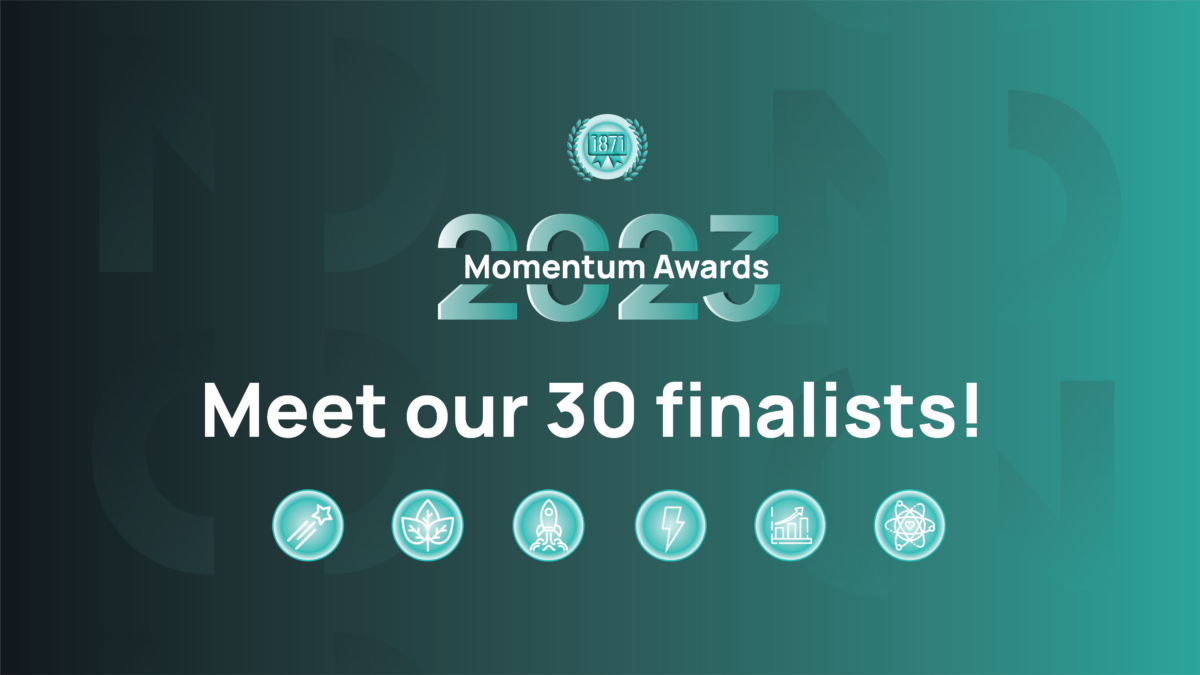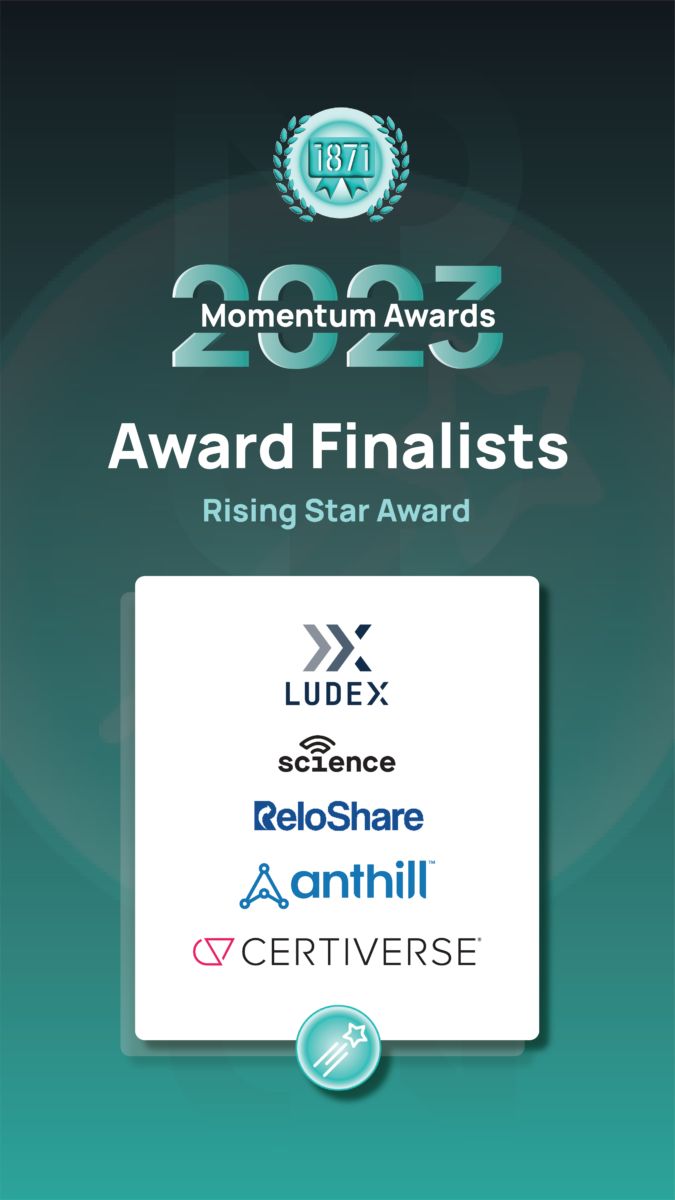 Presented to an early stage company that is positioned to grow into a leader in its market.
Anthill AI, Inc. is an employee relationship management platform that enables employers to engage & retain their frontline associates on any kind of device in over 100 languages. Anthill is a team committed to partnering with organizations to unlock opportunities for their frontline workforce. For every team member, the first and most important goal is good, family-sustaining jobs for more frontline workers.
Certiverse puts certifications within reach by democratizing exam development and delivery. The revolutionary online platform uses industry-leading psychometric standards, intuitive machine learning, & asynchronous crowdsourcing from experts to quickly create rigorous, cost-effective exams. Certiverse is an industry innovator, empowering organizations to rapidly develop valid test content at scale; engage, expand, and diversify their pools of subject matter experts; and create exams with less environmental impact.
Ludex, LLC is a game-changing platform that revolutionizes the trading card collecting experience. Ludex has pioneered cutting-edge visual AI-scanning technology to provide a seamless and efficient solution for collectors. With Ludex, you can accurately and rapidly identify your cards, determine their market value, and discover the next steps for your collection. Ludex combines physical trading cards with the digital world for a seamless experience removing barriers for all collectors.
ReloShare, Inc. is an instant booking technology company that powers custom hotel and corporate housing reservation systems. In June 2021, ReloShare launched Safe Stays, a one-of-a-kind custom hotel booking site that provides social service agencies like domestic violence shelters & human trafficking response agencies the ability to book rooms at national hotel partners with complete anonymity via alias check-ins and no credit card or ID requirements.
Science on Call is a subscription-based tech support platform for restaurants that helps with POS, internet, Wi-Fi, online ordering & more. Science On Call has grown steadily over the last three years, gaining traction in the restaurant industry with its disruptive, affordable tech-support model. With the support of the local Chicago tech community, including investors, incubators, and support hubs like 1871 and GET Cities, the Science On Call team is positioned to scale quickly over the next year by targeting large restaurant group clients & continuing to improve its technology.
Vote for your fav Rising Star finalist!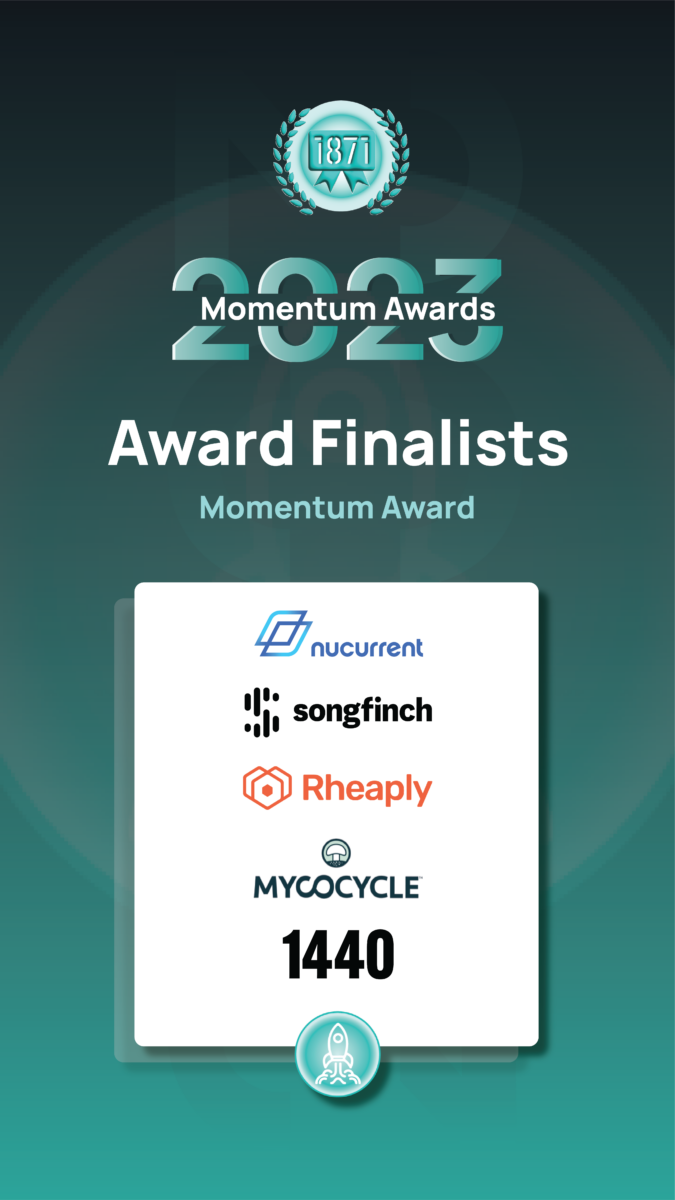 Presented to a growing company with the strongest potential to emerge as a leader in its market.
1440 is the daily newsletter helping 2.6M+ Americans stay informed, it's news without motives, edited to be as unbiased as humanly possible. On a mission to fix distrust in the media, 1440's team of editors, experts, & analysts scour hundreds of sources across science, culture, politics, and business to deliver an impartial report on the day's news so readers can be more informed. Designed to be read in under five minutes, 1440 aims to serve the vast majority of Americans who are exhausted by the constant barrage of agenda-driven coverage.
Mycocycle is disrupting the trillion-dollar waste management industry through their proprietary process that uses mycelium to transform waste into valuable new products that can be used in construction. Mycocycle is a woman-owned, early-stage cleantech company that is innovating traditional waste management practices through a patent-pending process that uses fungi to remove toxins from trash to create reusable value streams. This process has the potential to revolutionize the way we think about waste, and it could have a major impact on the environment.
NuCurrent powerfully transforms consumer, industrial, & medical electronic devices and how people experience them with inductive and inductive resonant wireless power and data solutions for original equipment manufacturers. Within the wireless power industry, NuCurrent has emerged as the industry authority, with over 300+ patent assets generated and 500M+ devices powered across more product categories than any other company in the world.
Rheaply is a climate tech company on a mission to bring circularity to every business. Rheaply's platform combines inventory management and digital marketplaces with sustainability solutions so that organizations can keep valuable products and materials in use, reduce costs and waste, & reach their sustainability goals. Rheaply is disrupting an industry that is limited by inventory management systems of old, built entirely for the take-make-waste linear, extractive, and simply put, wasteful economy.
Songfinch is the leading music creator platform that enables anyone to choose from thousands of professional musicians and create one-of-a-kind, custom songs. Songfinch has created a seismic shift in the music industry by eliminating all barriers to entry, enabling hundreds of thousands of users to create their own custom song using its technology and artist community. Over the past five years, Songfinch has had nearly a half-million custom songs produced & over $30,000,000 earned by independent artists.
Vote for your fav Momentum finalist!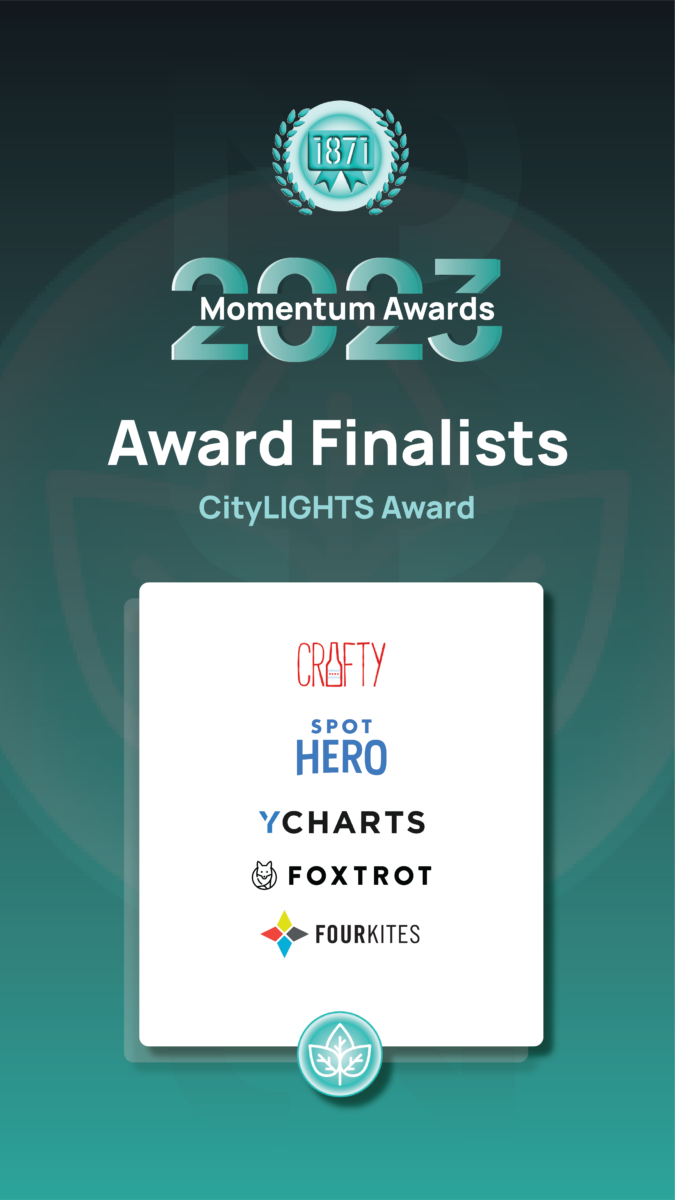 Presented to a growth stage company that has become a serious competitor in the marketplace.
Crafty is a centralized platform for workplaces to manage food, beverage, and supplies for their in-office, remote, and hybrid teams across the globe. Crafty's innovative technology allows clients to budget, filter products by DE&I and dietary needs, and manage spending & inventory across multiple office locations while creating hospitality-driven in-office experiences, which have aided in bringing communities back into the office to work, socialize, and perform their best. 
FourKites is the fastest-growing predictive supply chain visibility platform, with the largest and most intelligent network of supply chain partners and data providers in the industry. In addition to tracking real-time freight and providing the industry's most accurate predictive ETAs, the platform helps companies identify trends in their supply chains, evaluate performance over time in order to reduce costs, improve service and create more efficient, transparent, & sustainable operations. 
Foxtrot is redefining convenience for the modern consumer, marrying the best of neighborhood retail & e-commerce technology to create a community of discovery. Its storefronts offer the most-loved aspects of neighborhood cafés, and you can turn to the Foxtrot App or website for 30-minute delivery and 5-minute pick up of a city's best goods – from local beers and fine wines to chef-prepared meals and everyday essentials. With its innovative technology & a commitment to supporting local makers, Foxtrot is on a mission to connect people to better convenience through a love for food and culture, so that everyone can feel good about what they buy, everyday.
SpotHero is the digital parking leader & the largest platform to buy and sell parking in over 300 cities in North America. With over 8,000 parking locations on SpotHero and over 50 million cars parked, SpotHero has changed the parking industry by providing price transparency, convenience, and safety to millions of drivers, while helping parking garage operators improve their operational efficiency and increase revenue. 
YCharts is a leading financial technology company based in Chicago that has revolutionized the way financial advisors make investment decisions and communicate with their clients and prospects. With an intuitive, web-based software, YCharts provides comprehensive data, powerful visualization tools, & advanced analytics that enable finance professionals to easily monitor markets, construct portfolios that match their clients' investment needs, and simplify complex financial concepts.
Vote for your fav CityLIGHTS finalist!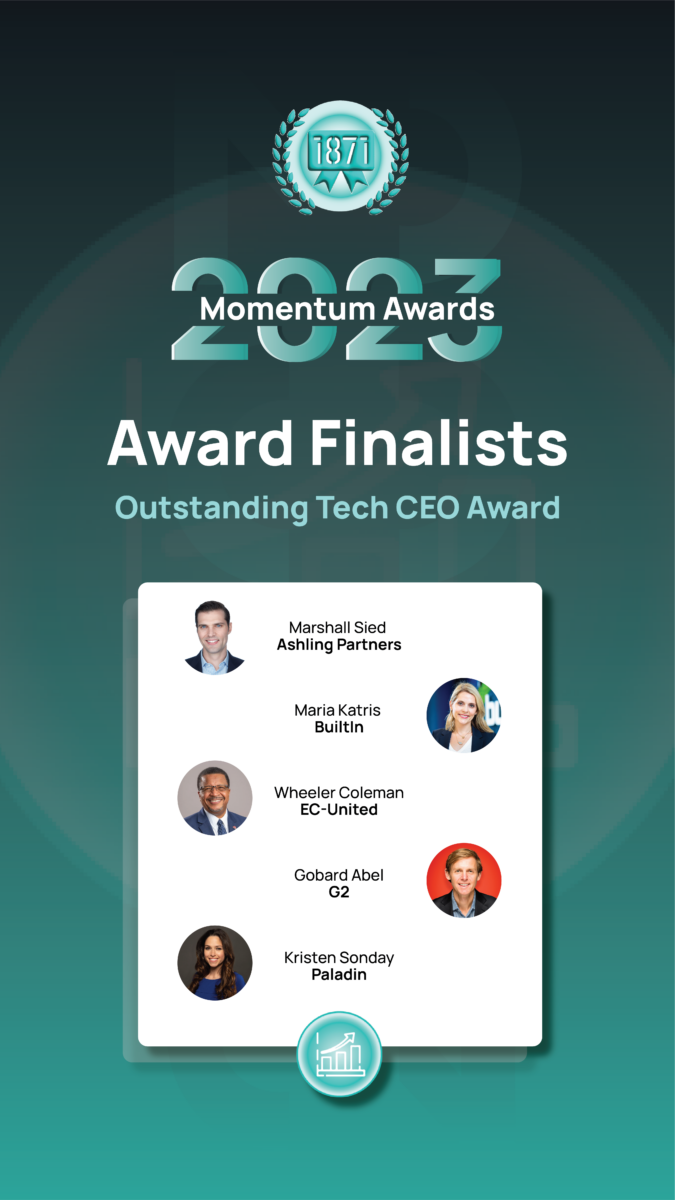 Presented to a CEO who has successfully scaled & nurtured their company through outstanding leadership.
Godard Abel is G2's co-founder and remains as CEO of the company today, leading it into its next phase of growth. Under his leadership, G2 has become the world's largest and most trusted software marketplace. With over 2M+ verified peer reviews, G2 is used by more than 80M people annually. Thousands of software & services companies of all sizes partner with G2 to build their reputation, manage their software spend, and grow their business. Abel is an avid believer in and practitioner of Conscious Leadership and has invested in a Conscious Leadership coach to train not only himself, but all leadership at G2 on this philosophy that has helped to create a top workplace culture.
Kristen Sonday is the Co-Founder and CEO of Paladin, whose mission is to increase access to justice by helping legal teams run more efficient pro bono programs. Paladin has a team of 16 & has raised over $12M in capital. Under Sonday's leadership, Paladin's mission to empower legal teams worldwide to serve more people in need has led to first-of-their kind portals for global disaster relief and relief efforts for Ukrainians affected by the war. In her role, she works with AmLaw200 firms, Fortune 500 in-house teams, and bar associations to increase pro bono engagement while decreasing administrative costs.
Maria Katris is a dynamic and visionary leader who serves as the CEO of BuiltIn, the largest platform of people who live and work in technology. Katris' strong leadership skills and innovative thinking have not only led to the company's impressive growth but also positioned BuiltIn as a trusted platform for connecting professionals in the tech community. Her dedication to fostering a diverse and inclusive work culture has been instrumental in attracting top talent and nurturing a collaborative environment. Under Katris' guidance, BuiltIn continues to thrive as a trailblazer in the tech world, empowering individuals & companies alike to unlock their full potential.
Marshall Sied, co-founded Ashling Partners in 2017, as a 'new vision' of delivering on outcomes via Intelligent Automation. As CEO, Marshall has successfully led the company by demonstrating leadership, strategic acumen, & the ability to drive sustainable growth. His unique ability to bridge the gap between cutting-edge technology and real-world business applications sets him apart, as he consistently delivers tangible results & high value to his clients.
Wheeler Coleman is the CEO and founder of Executive Consultants United (EC-United), a nationally certified Minority Business Enterprise (MBE) technology firm specializing in delivering innovative professional services, technology and workforce labor solutions.  As a native Chicagoan who rose from the West Side projects to become a successful CEO, Wheeler himself demonstrates the transformative power of diversity & inclusivity. Under Coleman's leadership, EC-United has experienced remarkable growth in revenue and profitability, exceeding industry averages. In just a few years, EC-United has become one of the fastest-growing MBE IT consulting firms in Chicago. 
Vote for your fav Outstanding Tech CEO finalist!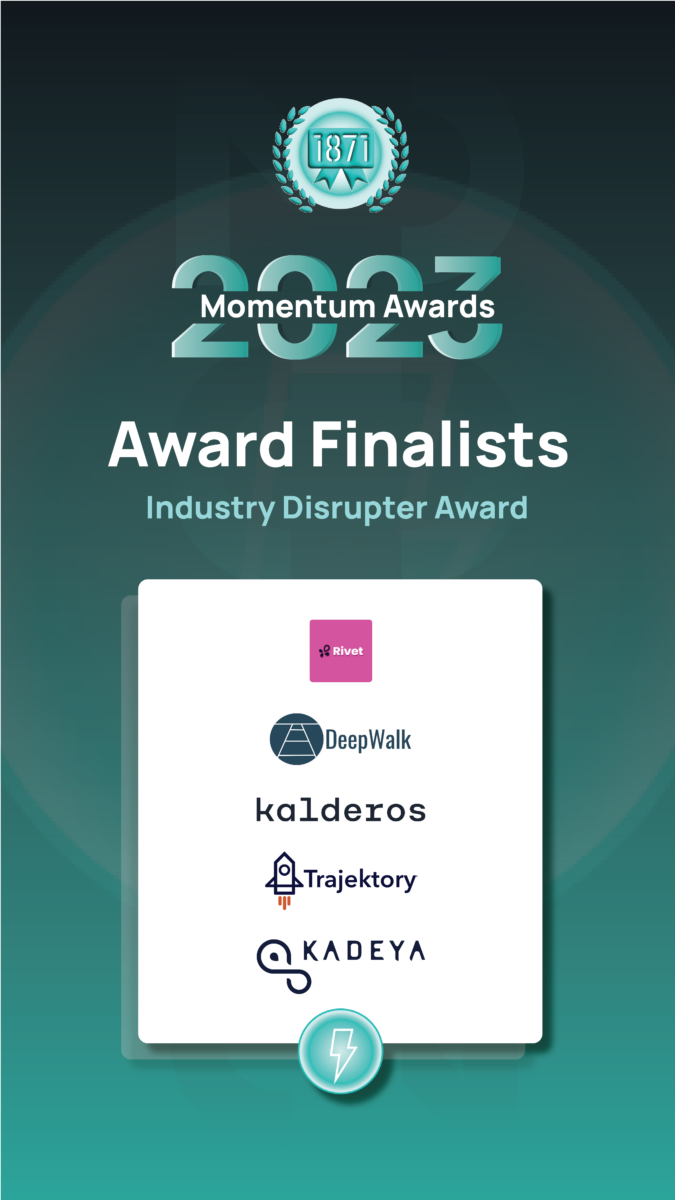 Presented to a company that has developed an innovative product that has significantly disrupted the industry.
DeepWalk is a mobile app that allows city workers to scan sidewalks helping municipalities comply with ADA requirements and be more informed when making decisions about the hazards & needs in their community. DeepWalk uses mobile imaging and AI to create more accessible communities. Using the scan data, DeepWalk automatically generates inspection documents, construction documents, & accessibility plans.
Kadeya is a patent-pending kiosk that washes, sanitizes, inspects, and refills bottles, combining a bottling plant with a dishwasher & a soda fountain in a unit the size of a vending machine. Kadeya is working to provide sustainable hydration solutions to reduce the drastic amount of waste from plastic bottles. This model decentralizes the entire linear & inefficient beverage supply chain to the point of use, eliminating practices that are environmentally unsustainable while increasing access to safe drinking water to at-risk populations.
Kalderos is a data infrastructure and analytics company that created the world's first Drug Discount Management platform, simplifying drug discount program compliance for all stakeholders. The platform applies sophisticated data models and machine learning to identify and resolve noncompliance, with collaboration-oriented solutions built for both drug manufacturers & covered entities. Kalderos is dedicated to reducing inefficiencies in the U.S. healthcare system, empowering everyone to focus on the health of people.
Rivet is a women & black-led company founded by an all-MIT team that uses machine learning to find and understand their high-potential fans and provides creators with actions and automations to unlock more revenue. In a historically overlooked and service-oriented industry, Rivet's approach to using AI to streamline business processes for artists & creators is fundamentally disruptive. Rivet's recommendation engine and associated fan engagement score open the door to significant intelligence & workflow automation. 
Trajektory is the first vendor of its kind,  built by former execs who actually worked for teams, leagues, agencies, and brands and has become the premier sponsorship analytics & revenue platform that's solving the burden of sponsorship reporting. Trajektory is changing the way teams and brands measure sponsorships and is in a unique position to be the leader in the sponsorship valuation industry with continued growth & brand awareness.
Vote for your fav Industry Disrupter finalist!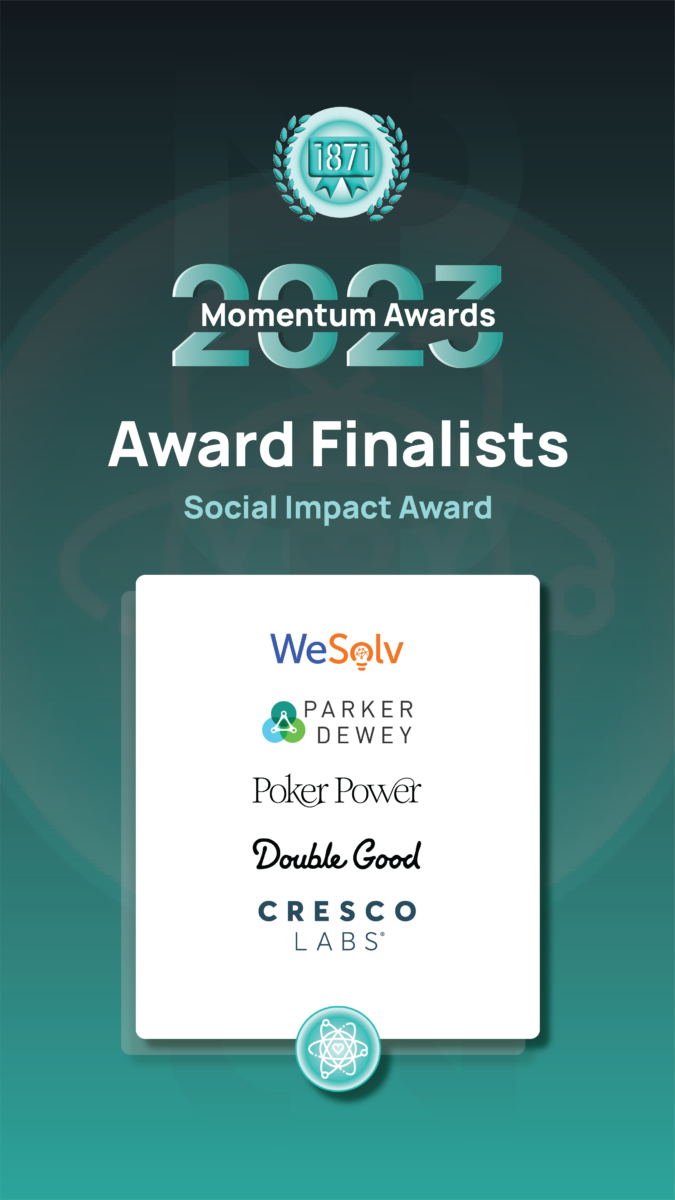 Presented to a company that has fostered a commitment to DEI, community contributions, & social impact. 
Cresco Labs is one of the largest publicly traded, vertically integrated multistate operators in the cannabis industry where thousands of employees work in service of a mission to normalize & professionalize the cannabis industry. Through year-round policy, community outreach and SEED initiative efforts, the company embraces the responsibility to support communities through authentic engagement, economic opportunity, investment and advocacy. This helps people find careers in cannabis, formerly incarcerated people get their lives back, & influence legislative changes that will help the industry achieve its full potential.
Double Good is a digitally native vertical brand reimagining the experience, simplicity, & effectiveness of product-based fundraising. Double Good creates user-first software, makes ultra-premium popcorn, and gives 50% of every dollar to a cause. Double Good is in the restless pursuit to make fundraising better through innovative technology. Double Good has helped raise over $200 million to create joy and help kids and organizations nationwide make a lasting impact in their communities.
Parker Dewey is transforming the college-to-career journey for students and recent graduates from all backgrounds with Micro-Internships: short, paid, accessible projects. These Micro-Internships create equitable pathways to professional employment for all learners, while overcoming the barriers tied to lack of social capital, academic pedigree, & other inherent biases
Poker Power is a company led by women for women with the goal of teaching one million women how to play the game of poker & the game of life. Poker Power utilizes gameplay to help girls and women ranging from students to CEOs stack their skills and accelerate success through a global network of corporate leadership development workshops and lessons. By empowering women with key skills, Poker Power is changing the future for generations to come.
WeSolv is an AI and performance data-driven platform that automates sourcing more diverse candidates & objectively assessing skills and competencies with real mini-projects. WeSolv democratizes access to real experience and uses predictive data to reduce hiring bias. WeSolv's  purpose, beyond profit, is to create a world where candidates of all backgrounds can access meaningful careers while infusing companies with diverse, high-performing talent to propel their businesses forward.
Vote for your fav Social Impact finalist! 
Subscribe to our ICYMI newsletter.
Share this post: