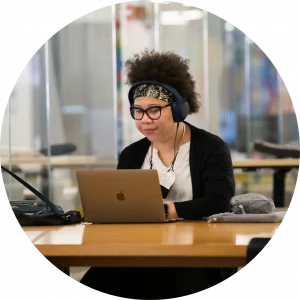 1871's Tech Challenge event connects, inspires, and strengthens the extraordinary talents of students passionate about technology.
This is an incredible opportunity for students & recent grads to sharpen their coding skills and gain a pathway forward into a career in technology.
Those with top scores during the qualifying challenge will be invited to 1871 in Chicago on 10.19.23 – 10.21.23 to participate with others in a fun social networking event and potential employer meet & greet. 
  Chance to win from our $7,500 pot of cash
Opportunity to meet with tech leaders and innovators
Connections to peers, just as passionate and excited about tech
Your resume placed in front of our network of hiring partners
To complete the qualifying challenge, you need to have a basic understanding of code [ANY LANGUAGE] and problem-solving. 
The challenge will be hosted through an independent group and results will be immediately presented to 1871 following your completion.
I'm interested in learning more.
10.19.23 - 10.21.23 • Chicago, IL
After all qualifying challenges are taken, the top coders will be invited to attend the main event in Chicago with accommodations and airfare provided! 
These lucky individuals will be given the opportunity to #TakeCharge of their career and have the chance to take home a cash prize!
A total of $7,500 will be distributed to winners + random prize drawings throughout the event!
Thank you to our 2022 sponsor
3:00 pm • Students check-in at Holiday Inn River North
5:30 pm • Welcome Reception Begins
6:00 – 6:10 pm • Opening Remarks
7:30 pm • Welcome Reception Ends
8:30 – 8:35 am • Check out of hotel and transit to 1871
8:35 – 9:15 am • Breakfast at 1871
9:15 – 11:15 am • Final Challenge
11:15 am – 2:15 pm • Free time for lunch & exploration
2:15 – 2:30 pm • Return to 1871
2:30 – 3:00 pm • Closing Ceremony & Winners Announced